Data Collection
We know that people are more likely to feel safe and comfortable walking, scooting, wheeling or cycling on roads without lots of traffic.
We have assessed the impact of LTNs on:
Conditions created for walking, scooting, wheeling, cycling (Healthy Routes Assessment)
Data collected on the number of people cycling (SYSTRA Counts)
There are no datasets that allow us to evaluate what the impact of the LTN on walking has been. Cyclists are identifiable on most general traffic counts so the methodology for data collection is the same as for motor traffic.

Healthy Routes assessment
In order for any given street to be classified a Healthy Route, it needs to meet certain criteria as set out in Lambeth's Transport Strategy:
Fewer than 200 vehicles per hour in the average weekday peak hour.
Under 5% of vehicles using the route can be classified as HGVs.
Average vehicle speeds must be <20mph.
The maps below show the pre-LTN and post-LTN Healthy Route pass/fail criteria
Traffic has reduced on 5 streets enough to be added to our 'Healthy Routes Network' which means they are safer and ideal for walking and cycling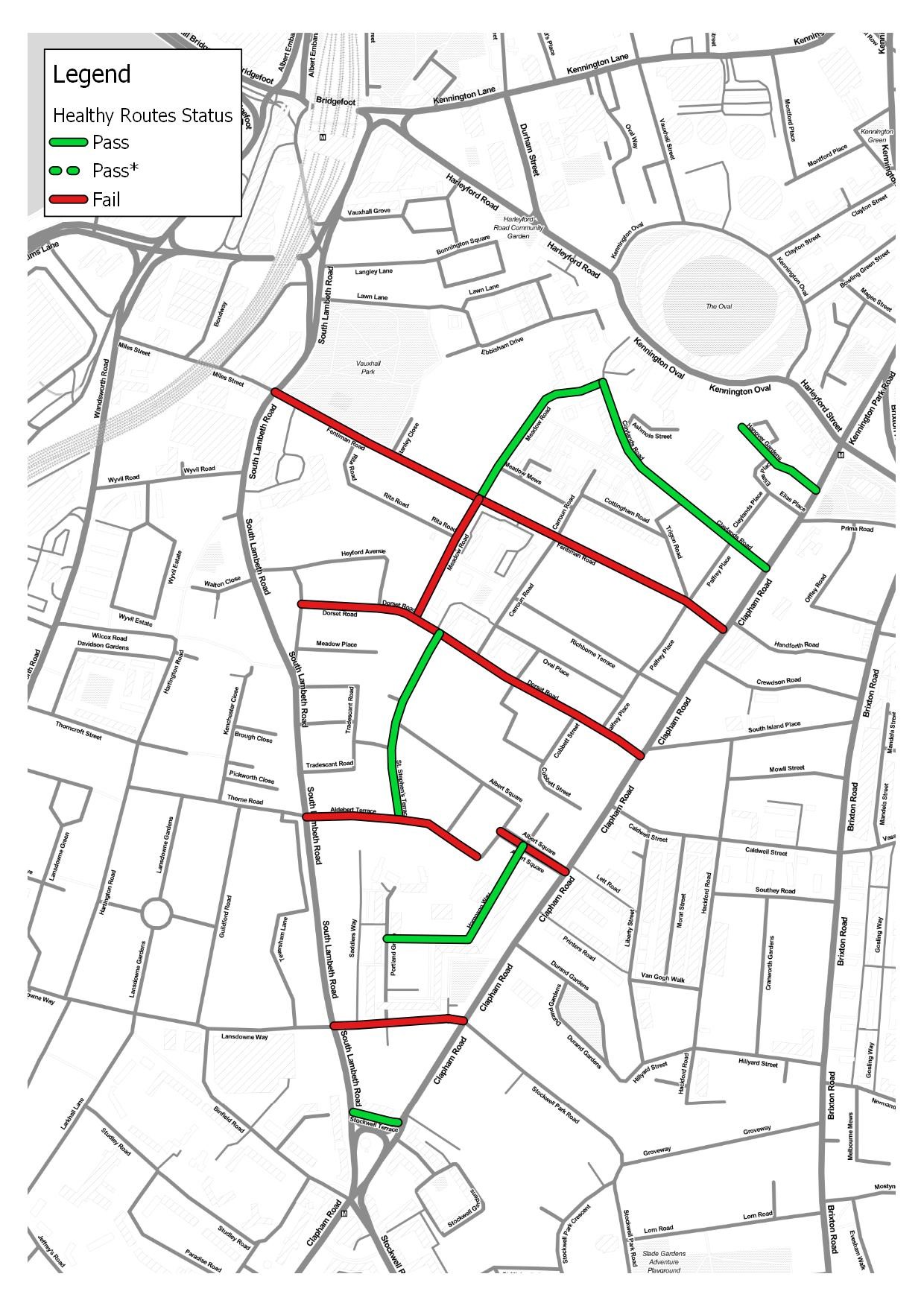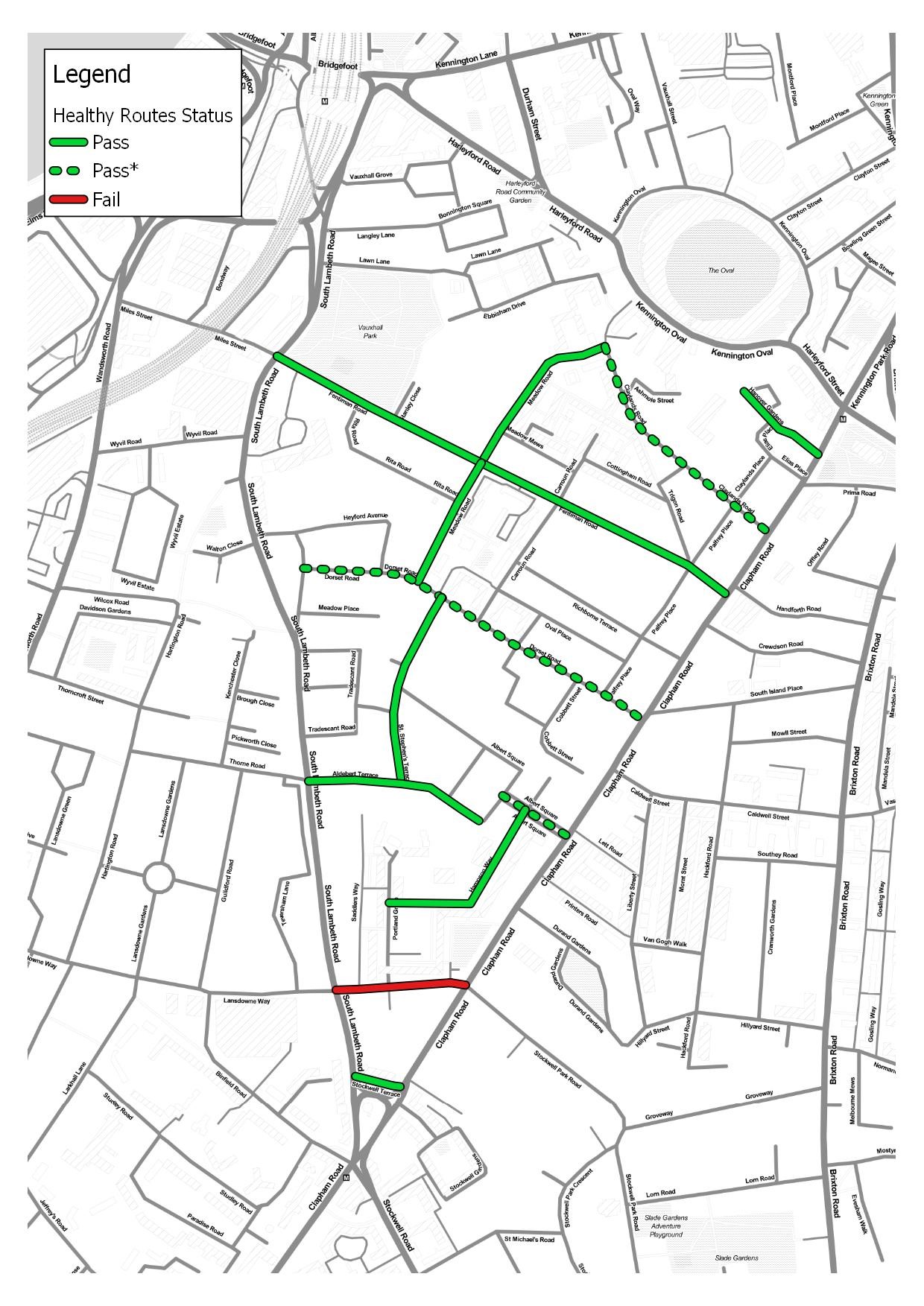 Cycle count data
As with motor traffic volumes, the number of people cycling has also been affected by the pandemic. The Department for Transport's Road Traffic Statistics estimate a 38% increase in cycling in London in 2020, relative to the average for 2017-2019.
Cycle flows have increased at 12 of the 15 count sites, for an overall increase of 87%.
Dorset Road, along Quietway 5, has seen the largest increase: +310%, or 528 average additional cycles per day. Similar increases have been seen on Lansdowne Way East (+184%, +369 per day) and Aldebert Terrace (+223%, +370 per day).
All sites where cycle levels have decreased represent small nominal changes of <50 daily cycles.
Highlights of the increase in cycling within the Oval to Stockwell Triangle LTN are shown in the cycle count maps below. Full data is available in the independent report.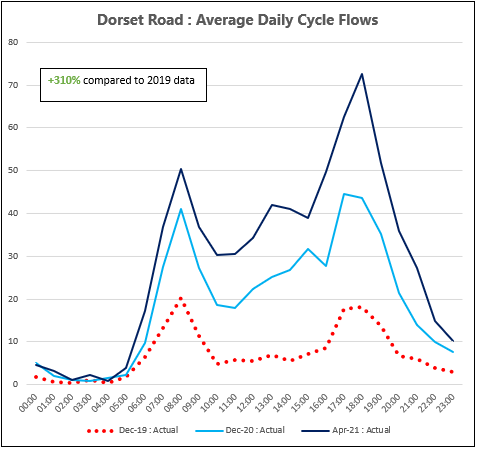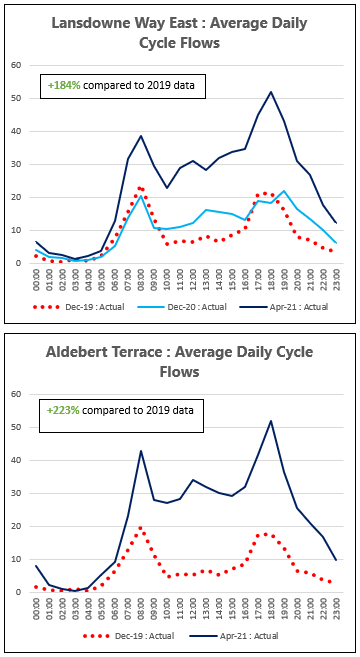 Results of community feedback
Since the start of the ETO we have received 98 walking and cycling related emails:
Benefits
Improved safety whilst cycling, walking, wheeling, jogging, rollerblading
Improved safety for individuals with specific characteristics i.e. older people
Allowed children living or commuting within the LTN to amble, cycle and scoot
The health benefits linked with cycling and walking were mentioned
Improved confidence and wellbeing/Quality of life
Concerns
Concerns around safety whilst cycling i.e. onto busy boundary roads with an emphasis at Stockwell Terrace and Lansdowne Way.