Data Collection:
Modelling of air quality in the LTNs is being completed by independent consultancy: Cambridge Environmental Research Consultants Ltd (CERC)
The impact of each LTN on air quality has been assessed through air quality modelling. Two key pollutants have been modelled; Nitrogen Dioxide (NO2) and Particulate Matter (PM10 and 2.5).
The modelling was carried out in two stages:
The first stage considered the baseline air quality conditions
To establish the air quality baseline, traffic flow data was provided for each Automatic Traffic Counter (ATC) site in the scheme areas for 2019, based on historic traffic data.
The second stage considered the impact on air quality with and without the LTN schemes.
The model went through a verification process to make sure the model aligned with real-world monitoring to generate a robust model set-up.
CERC modelled the impact on sensitive locations: schools, hospitals, care homes and other educational establishments.
To understand the air quality impacts of the LTNs it is important to know how air quality is measured and what is considered poor air quality:
Both NO2 and PM are measured in micrograms per cubic meter of air (µg/m3).
NO2 is subject to an annual average legal limit, which is 40µg/m3, and a short-term hourly average limit of 200 µg/m3, which cannot be exceeded more than 18 times per year.
The legal annual average limit for PM2.5 is 25µg/m3. However the World Health Organisation advise that there is no safe minimum limit for PM2.5
This air quality assessment is more detailed and comprehensive than the typical approach used across the industry.
Air quality in London:
Air quality in London is improving five times quicker than elsewhere in the UK. London specific policies like the Ultra Low Emission Zone have delivered really big improvements in air quality.
The Ultra Low Emission Zone is currently operating in central London. It will expand to include all roads within the north and south circular roads in October 2021, with big improvements to air quality anticipated across a much wider area.

Results of air quality monitoring
The LTN modelling indicates some localised impacts on air quality, and we expect to see more substantial changes over time.
All sites where traffic reduced are likely to have seen slight to significant benefits in air quality. This includes a reduction in NO2 on the A3 Clapham Road as the eastern boundary of the Low Traffic Neighbourhood.
Where NO2 levels are likely to have increased, that increase is expected to be mitigated by the expansion of the Ultra Low Emission Zone in October. ULEZ is expected to mean that all sites, including on boundary roads, will have better air quality compared to before the LTN was introduced.
The modelled changes in annual average NO2 concentrations between the post-scheme and pre-scheme scenarios range between a 0.6 μg/m³ reduction and a 1.3 μg/m³ increase.
The air quality modelling has analysed what the impact has been at all sensitive locations schools, care homes etc. All of the locations are within the legal limits.
The maps below show the changes in air quality that the LTN scheme has brought about: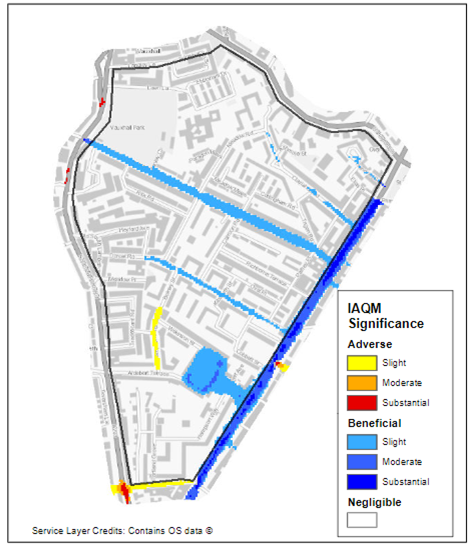 Above: difference plot for NO2 based on impact descriptor coloured by EPUK IAQM significance criteria, Oval LTN

Results of community feedback
Since the start of the ETO we have received 80 pollution related emails
Benefits
Perceived reduction in air pollution
Respondents mentioned the LTN tackled air pollution on Fentiman road and air and noise pollution along Albert square
Percieved reduction in noise pollution
The perceived reduction in pollution linked with good physical and mental health
Concerns
Perceived increase in noise pollution including car horns and aggressive traffic behaviour affecting local schools and residents
Perceived increase in air pollution