The Oval to Stockwell Triangle Low Traffic Neighbourhood (LTN) was introduced to reduce traffic volumes. By reducing traffic in Oval and Stockwell it is hoped we can achieve priorities of our Transport Strategy including to:
Improve road safety for all users
Encourage travel in healthier, more active ways
Support the local economy and placemaking
Improve air quality
We all need to take bold action to reduce car journeys where possible to clean up the air in Lambeth and tackle the climate emergency.
Our monitoring shows the the scheme is meeting its primary objective to reduce traffic.
Consultation ran 06/09/2021- 11/10/2021.
Data is now being analysed before a decision is taken on the future of the scheme.
How and where was the Oval to Stockwell LTN introduced?
Planters, signage and ANPR cameras were used to create a series of 6 filters and one no entry sign across the area, introduced in June 2020.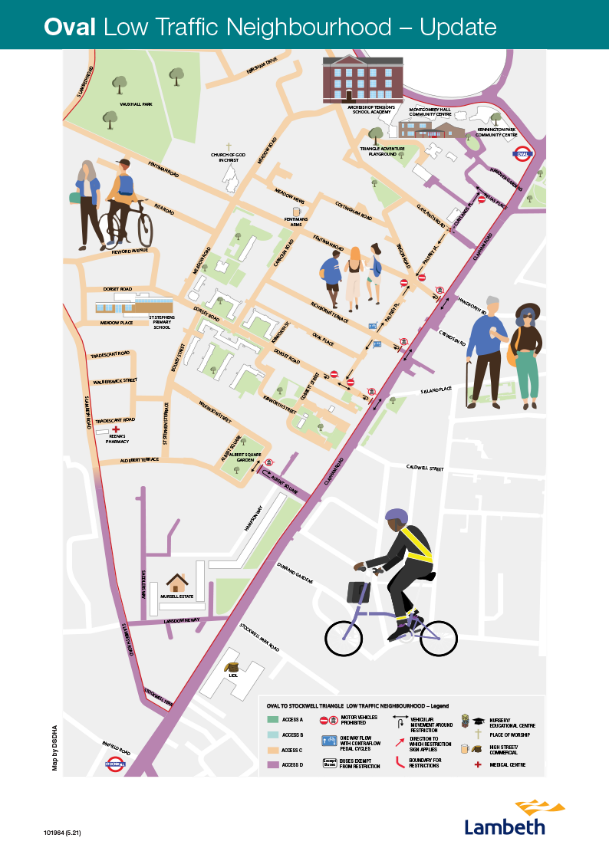 What has happened so far?
The LTN was introduced as an emergency measure during the pandemic in June 2020. The main objectives of the LTN programme are to achieve:
A reduction in through motor traffic within LTN areas; and
An overall reduction of motor vehicle movements across the area, when considering boundary roads and the inner area together
We are monitoring the low traffic neighbourhoods in three stages:
JUNE 2020 onwards: scheme introduced, Stage 1 monitoring including traffic count, commonplace feedback
JANUARY 2021 onwards: enforcement begins, Stage 2 monitoring including traffic counts, air quality modelling, emergency service response time, community feedback - emails, objections, meetings, Q&As
SEPTEMBER 2021 onwards: consultation on whether to make the scheme permanent